About Us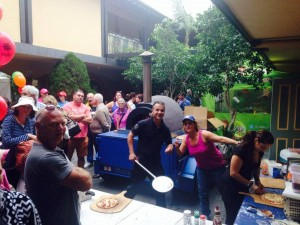 Johnny, the brains behind Pizza Nights, was inspired to venture into the catering business by his passion for food preparation. This decision led him to start a mobile restaurant where he could entertain patrons and make them happy every time. He is always enthusiastic when meeting different people from all walks of life. If there is any mobile restaurant owner who can claim to derive satisfaction from what he does, it's Johnny. For many years, Johnny dreamt of owning a mobile pizzeria. His ambition came true when he finally learnt all he could on woodfired pizzas and customer service. He has become intimately familiar with his ingredients and what it takes to get you coming for more.
We cater for any kind of occasion you have in mind. Be it your engagement party, corporate party, Christmas festivity, graduation or any other celebrations. Our capacity is designed to ensure that everyone at the event gets a bite of the finest from Pizza nights. Experience has taught us that no party is too big for its revelers to miss out on a mouthful of our succulent pizzas. We always find it delightful, honorable and pleasurable whenever almost everyone at a party insists on learning the secret recipe to our pizzas. It goes to show that we are miles ahead of the pack in what we do. The prices at Pizza Nights are competitive, so make sure to invite all your friends to the event.
Our desire to cater for everyone has inspired us to come up with pizzas for everyone, regardless off age or preference. We carefully select our ingredients to make our pizzas appealing to both adults and kids. With close to 30 pizza types on our menu, you'll surely make an appealing choice from the Traditional, Gourmet, Children's and Dessert categories. Freshness is our mission, and that's why we don't use frozen ingredients, and our hand-tossed dough is made daily. Our creative staff formulates new and exciting ingredients every now and then to satisfy the ever-changing needs of our customers. This inventive resource is expected to grow our menu list, tremendously, in the coming days. Try out some of the mouthwatering pizzas, and you will wish you knew about Pizza Nights earlier.
At Pizza Nights every customer is king. We understand the need to get you a pizza as soon as possible after you make an order. As a result, our team consistently meets and exceeds customer expectations by being the fastest in the business. We are capable of producing two pizzas every few minutes, which is way above industry standards. Thousands of our dear customers keep coming back for scrumptious pizzas and compliment us on our freshness, speed and friendly service. This is what sets us apart from the rest.
Plans are underway to expand our services throughout Sydney. It is our great hope that everyone in this great city will get a chance to easily access their favorite pizzas easily. We believe that this is only possible if we leave a footprint on every street. Be on the lookout, and you could soon spot a Pizza Nights mobile restaurant franchise near you. We are searching for the right partners for this, so that we can continue to uphold high standards in our products.
Our main objective at pizza nights is to keep you satisfied. We appreciate and value your input because it allows us to serve you better. Call or email us with questions or suggestions, and we will get back to you promptly. We have a team of dedicated representatives who will satisfactorily address all your concerns.
We hope you enjoy your next event with Pizza Nights